Remember when you could leave your doors unlocked and you could roam freely through your neighborhood without a care in the world…
The 50's and 60's were a wonderful period in American history. The advent of rock-n-roll, ornate cars from Detroit, hot rods, muscle cars, and Schwinn Sting Ray bicycles, all made our lives fun and exciting. Remember when you knew the ice cream man by his first name? Oh the sound of those bells coming down your block on a warm summer evening…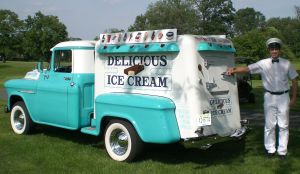 Call today to book our truck for your next event.
We add a unique and memorable experience for:
Birthday Parties
Corporate Parties and Picnics
Marketing Events
Fundraisers
School Events
Bar Mitzvahs/Bat Mitzvahs
Cocktail Parties
Sporting Events
Wedding Receptions
Graduations
Reunions
Launch Parties
Photo Shoots
Movie Rental
Delicious Ice Cream makes the August edition of New Jersey Monthly!
The Delicious Ice Cream Company is recreating this past experience providing a unique and nostalgic opportunity to individuals, companies and event planners seeking something very cool and different for their next party or event.
One of our fully restored 1950's custom truck will arrive at your party or event with an authentic ice cream man dressed in that same old fashioned outfit you remember as a kid.
Call us today to book your trip down memory lane at 908-766-0468.